Two of the mothers of some of our R.O.C.K. Stars had an email thread going on recipes which I found to have some very good ideas for gluten free kid friendly treats. It is hard to find good ideas for inexpensive and easy gluten free recipes for kids which they adore and to also fill in the gaps so that they don't feel they are missing out on old favorites. If your kids are like mine, they eat pigs in a blanket or pizza rolls regardless of warm or cool...
And just think - You can actually make two options that are usually laced with questionable ingredients in a healthier way:-)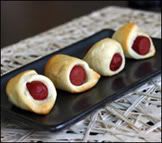 Gluten Free Pigs In A Blanket
One package of Gluten Free Smoked Cocktail Sausages - There are many brands available in major grocery stores like
John Morrell smoked sausages
available at Bi-Lo. If you are nitrate free there are many available for mail order online:-)
Optional addition is cheese or cheese filled sausages
Preheat oven to 350 degrees. Place the gluten free sausages on a pan and stick into preheated oven for about 10 minutes to precook them.
Prepare the
Chebe
dough mix as directed on their package but add a little more milk until the dough becomes slightly gooey.
Cool the sausages and then wrap a small bit of the Chebe dough around each one - A little goes a long way. (Wrap the cheese around them first if you want to add it)
Then place the dough wrapped sausages back into the oven for around 15 minutes or until the dough lightly browns. Serve with gluten free katsup, mustard, BBQ sauce or plain - Whatever you desire:-)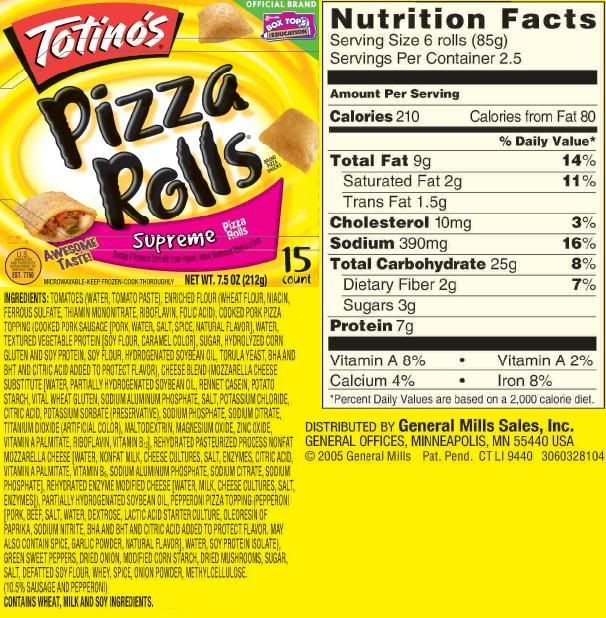 Click to view actual label of ingredients and nutritional values or lack thereof in Totino's Pizza Rolls
Gluten Free Pizza Rolls (Better Than Totino's)
Preheat oven to 350 degrees.
Roll it really thin, cut in rectangles and place pizza toppings in the middle of rectangle. Close up the rectangle by bringing ends together to make a "pizza pocket". Bake for only about 10-12 min.